Do your pets eat as well as you do? The tragedy is that we try to eat healthy, but our dogs are oftentimes neglected.  Not to say we don't love our animals! Sometimes we're just unaware of the dangers of traditional dog food.  We know that processed food is bad for us, and the same rule applies to our pets.
So we may try improving their health by cooking them healthy meals from home.  This can be a challenge… we have a hard enough time cooking ourselves healthy meals!  Fortunately, there are people that can help.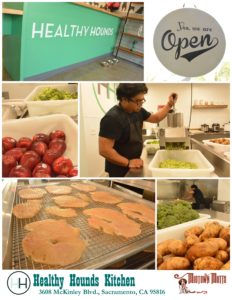 Enter the Kitchen
I had the privilege to talk with the team at the Healthy Hounds Kitchen, a pet store and commercial kitchen in Sacramento focused on providing wholesome real food for dogs.  The business was built with passion and out of necessity.  As dog lovers, they were informed about the dangers tied to traditional dog food.  And a healthy dog is a happy dog.  So, they began making fresh food from home (their dogs' personal favorite recipe is the lamb and rice).  Noticing that there wasn't many options commercially, they decided to open a store offering healthier options.
The Healthy Hounds Team were kind enough to let us check out their kitchen before they opened (it was impeccably clean!). They were making their turkey recipe.  They offer a great selection of dog food and treats to choose from, with different sizes and a variety of recipes; their Chicken & Russet Potato is most popular.  The Healthy Hounds Team also has three treats they make onsite and sell: chicken jerky, beef jerky, and sweet potato chips.
Their ingredients are sourced locally, with the exception of the lamb (which comes from Australia).  But more importantly, all of the ingredients are of USDA quality.  So yes, you can nibble on some of your dogs' treats behind their backs if you so desire!  Traditional pet food falls below the standard that the Healthy Hounds Team sets for their pets' health needs.  When asked about their ingredients, they simply stated, "Animal feed all too often takes short cuts and finds ways to incorporate meats that have been deemed "inedible" for human consumption."  And if we humans shouldn't eat it, our pets shouldn't either.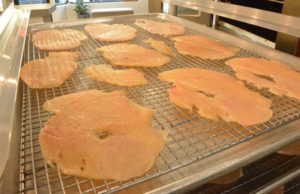 When asked about the surprises or anything unexpected that has occurred during their journey, they revealed that they're still surprised about how uninformed some pet owners are about what they're feeding their dogs.  4d meats, byproducts, fillers, unsafe preservatives and/or other toxic chemicals reside in traditional dog food on the market.  They passionately continue to educate anyone who desires to learn how to improve their dogs' dietary needs.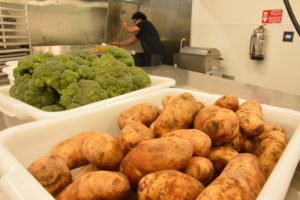 The most rewarding part of what they do is seeing healthy dogs living happy lives with their humans.  The relationships they develop with their customers are important to them.  Every customer and their beloved pooch carry a unique story.  And they take each story seriously.  This team of hard workers provide tons of value to each customer and their dogs.  They have attained loyal customers throughout the Sacramento area, with good reason.
We're not sponsored or endorsed by them, we just love what they do! Check out their website for more information.
Save