Our Midtown Mutts Pet of the Month is Mr. Huxley Thomas Tyerman!
He is a mix of mini schnauzer (50%), mini-poodle (25%), and Rhodesian ridgeback (25%).  This handsome pooch is 23 lbs of pure joy and lots of mischief.
He loves to play hide 'n seek.  Huxley sits patiently and waits…  Then his human calls out, "Where's Mama?" and he blissfully searches the house for her.  When he finds her, he awards himself by loving her with wet kisses on her face.
He also enjoys playing and wrestling with his stuffed toys (a sheep and hedgehog are his favorites).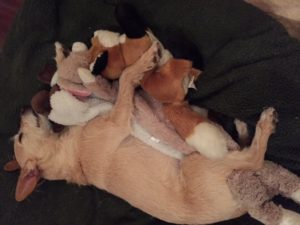 This little guy loves munching on some delicious cooked chicken.
The summer heat won't stop him from chasing squirrels in the garden.  He also loves lying in bed with his dog pack (mama and papa).
On his walk with Midtown Mutts, he loves going to Land Park and watching the ducks swim by at the pond.